The Redesigned 2021 Jaguar F-TYPE Redefines a Legend
While the model may only be a few years old, the Jaguar F-TYPE has already carved out a stellar reputation as a thundering, stylish, and exhilarating sports car. Glen Cove, NY drivers are about to see the second generation come along as the 2021 Jaguar F-TYPE lands at Jaguar Glen Cove. A new exterior design, enhanced performance, and more technology make this new F-TYPE a true beacon of luxury sports cars, and you can find yours at our dealership today!
A Stunning New Design
The original Jaguar F-TYPE already grabbed attention everywhere it went, but the new F-TYPE takes those striking good looks even further. Narrower LED headlights immediately give the new sports coupe a more aggressive face, a hint at the thrilling power that sits under the hood. A wider grille still features a chrome bezel and honeycomb insert for truly race-inspired looks, and it also serves to add an imposing aura to the latest F-TYPE model.
Below those obvious features sits a splitter that not only sets the stance for the new F-TYPE, but provides an aerodynamic enhancement that improves front-end turn at high speeds and economy while cruising the highway.
Unique hood vents add a hint of supercar flair to the new Jaguar F-TYPE, while a subtle bump up the center blends a muscle car cue into the European styling of this sports car. The raked rear window still leads into a short trunk like the original F-TYPE, but more broad rear fenders give the F-TYPE a hunched feel, like an animal preparing to lunge forward.  Combine all of these elements together and you have a Jaguar sports car or convertible that is designed to grab attention, and that's before you even fire up the engine.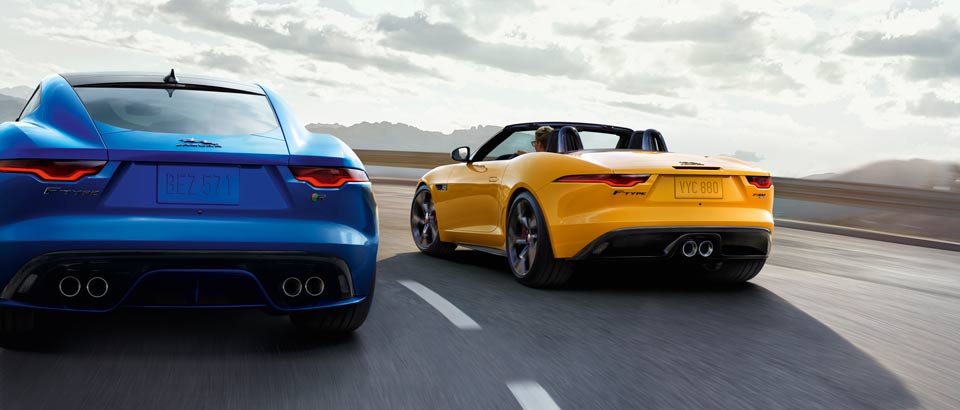 Performance
If looking at the new Jaguar F-TYPE is enough to make your eyes widen, what happens when you crank up one of the powerful engines available on the latest Jaguar convertible might take you by surprise. Even at the most basic level, the new Jaguar F-TYPE cranks out 296 horsepower from a 2.0-liter four-cylinder turbocharged engine. Low-down acceleration is strong with this model, as the turbocharger peaks torque early in the rev range for power you can use every day.
You can also step up to the 3.0-liter Supercharged V6 engine and enjoy 380 horsepower when you put your right foot down. With boost control and a secondary throttle valve, this supercharged engine can deliver more thrust with less lag than typical supercharged models.
Finally, there is the truly thunderous 5.0-liter Supercharged V8 engine. At 575 horsepower, this version of the F-TYPE will press you deep into your leather seats, and an eight-speed automatic transmission takes care of gear shifts with lightning-quick precision.
Advanced Technology
The new Jaguar F-TYPE is about more than just raw power and good looks. A refined experience awaits you when you settle in behind the wheel, making the F-TYPE a great choice for heading to work on those sunny summer days.
The digital driver display puts a customizable screen in place of your traditional instrument cluster, allowing you to see performance information, mileage, and even your navigation map as you see fit.
Remote access allows you to adjust the climate control and lock or unlock the doors from anywhere using an app on your smartphone or smartwatch. And should your Jaguar F-TYPE ever get stolen, GPS tracking technology can follow it wherever it goes for quick recovery.
Finally, the integration of both Apple CarPlay and Android Auto allow you to seamlessly connect your smartphone to access your favorite playlists, make phone calls, and even reply to text messages while on the road, without ever touching your phone.
Visit Our Dealership Today!
Turn heads in your neighborhood by being one of the first to take home the new Jaguar F-TYPE! The redesigned 2021 model will be available at Jaguar Glen Cove soon. Contact us to reserve your Jaguar F-TYPE, or shop our current inventory of new F-TYPE coupes and convertibles below.