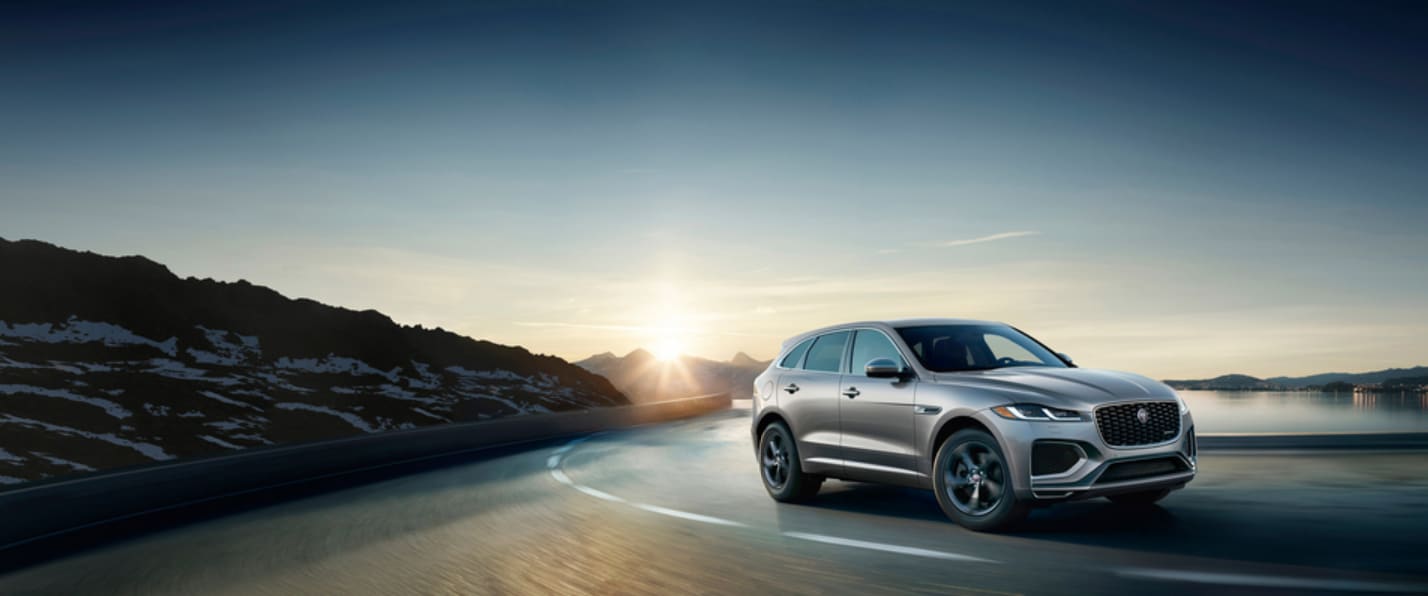 Discover the Latest in SUV Engineering with the 2021 Jaguar F-PACE in Glen Cove, NY
Since 1922, Jaguar has been synonymous with refinement, luxury, and performance. So, it's no surprise that when the beloved brand name decided to jump into the SUV trend a few years ago, their first SUV out of the gate would offer all these qualities, and much more. At Jaguar Glen Cove, we proudly carry that model, the Jaguar F-PACE, in our collection, and we want to help you get to know it better and see everything that sets it apart.
What's New for the 2021 Jaguar F-PACE?
A continuation of the first F-PACE generation, which debuted in our collection in 2017, the 2021 model year doesn't introduce drivers to any major overhauls or redesigns. But it does keep things fresh, with a handful of nice developments that we're sure drivers will appreciate. These updates include:
A slight exterior design tweak, complete with new lighting elements on the outside
A new powertrain option, in the form of a mildly hybrid 3.0-liter inline-six that's both turbocharged and supercharged
New infotainment technology, with the carmaker's new Pivi and PiviPro system onboard
A slightly redesigned interior, including a new 11.4-inch curved, glass screen that's mounted on the dashboard and an active noise reduction system for a quieter ride inside
Power and Performance
True to its nature as a Jaguar and embodying the same spirit as its-ready-to-pounce relative in the animal kingdom, the F-PACE SUV is powerful and up for anything. A range of impressive engines are available here, each of which captures the heart and the imagination of drivers, and each of which comes with all-wheel drive standard.
First up, base power for the lineup comes from a robust, turbocharged 2.0-liter four-cylinder engine. This powertrain puts out 246 horsepower with 269 pound-feet of torque. In addition to standard all-wheel drive, you can expect a combined 24 mpg with this engine, and a swift acceleration of 0 to 60 mph in just 6.9 seconds.
Next up, drivers can opt for the new V6 mild hybrid engine. Supercharged and turbocharged to deliver power when you need it most, expect 335 horsepower and 354 pound-feet of torque with this responsive system. It earns a combined 22 mpg rating and gets from 0 to 60 mph in just 5.8 seconds. Need a little more oomph? There's also an optional upgrade for this engine. Move up to the mid-level trims, and you can get 395 horsepower and 406 pound-feet of torque with the same powertrain. Fuel efficiency remains the same, but you can expect to get up to highway speeds in 5.1 seconds with this upgrade.
Finally, at the very top of the list, Jaguar makes the F-PACE available with a pulse-quickening V8 engine option. Listed as a 5.0-liter supercharged V8, this top-of-the-line option delivers 550 horsepower, 516 pound-feet of torque, and goes from 0 to 60 in 3.8 seconds. Look for an 18-mpg combined rating here.
Features and Amenities
Jaguar always goes beyond the expected, and that's clear when you take a closer look at the incredible list of features and amenities that come on every model. Regardless of the trim level or engine you prefer, every F-PACE SUV starts with standard features that include:
Power-operated liftgate
Panoramic sunroof
Heated exterior mirrors that are also power-adjustable and automatically dimming
Automatic headlights
Automatic windshield wipers
Automatic high beam control
Power-adjustable front seats
Smartphone integration
Learn More About the Latest Jaguar F-PACE
Don't blend into the SUV crowd. Stand out as you were meant to, with a world-class Jaguar by your side. Browse our collection to learn more about the latest models and reach out to our team to arrange an appointment to meet and test drive your favorites soon.
2019 JAGUAR F-PACE FOR SALE IN GLEN COVE, NY
Vehicle shown is for illustrative purposes. Actual vehicle image and details may differ. Vehicle in transit.