JAGUAR I-PACE LEASE OFFERS IN GLEN COVE, NY
Enjoy the First Jaguar EV and Get Ready for Even More Advanced Tech with a new Jaguar I-PACE Lease
Picking up a vehicle as cutting edge as the 2020 Jaguar I-PACE can be a complicated endeavor. Of course, you're excited about the all-electric powertrain, the tech-packed interior, and the sleek design, but you also don't want to risk falling behind as Jaguar makes even more advancements in automotive technology. The best way for you to deal with that? A 2020 Jaguar I-PACE lease from our Glen Cove dealership.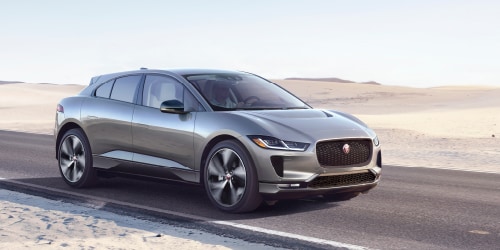 Why Leasing is the Right Solution
Finding the right Jaguar I-PACE lease offer allows you to take home what is currently the most advanced Jaguar model available, but with the confidence that in two to three years you'll be able to swap it for something even newer. Unlike traditional loans which can take five or more years to pay off, the shortened term of a lease better enables you to keep up with newer models as they enter the market. So, you can enjoy the all-electric performance of today's Jaguar I-PACE and still be free to explore whatever they do next.
Finding the Right Lease Deal
When you visit our Glen Cove dealership, you'll find a team of professionals dedicated to helping you find the Jaguar I-PACE lease offer that makes the most sense for you. Whether that means a lower monthly payment but a slightly longer term, a looser mileage allowance for a few extra bucks per month, or a low down payment option that lets you take something home today, we're always here to help.
Visit Our Dealership Today!
Check out the all-electric Jaguar I-PACE at Jaguar Glen Cove with a test drive, and then find the right lease deal to help you bring one home today! With zero to 60 mph acceleration of 4.5 seconds and a range of up to 234 miles, it is the electric SUV that doesn't force you to compromise.
NEW 2022 JAGUAR I-PACE OFFERS
________________________________________
CHECK BACK SOON FOR JAGUAR E-PACE OFFERS.
Jaguar Glen Cove

70 Cedar Swamp Rd
Glen Cove, NY 11542