JAGUAR E-PACE LEASE OFFERS IN GLEN COVE, NY
Shop Through Our New Jaguar E-PACE Lease Specials in Glen Cove, NY
When Jaguar expanded to the luxury SUV class, they shook up the status quo and had others struggling to compete with the package of function, style, performance, and value that Jaguar SUVs offer. The new Jaguar E-PACE is a beautiful example of those qualities, and it's incredibly easy to find value when you shop our Jaguar E-PACE lease offers near Great Neck, NY. You can view our current Jaguar E-PACE leases on this page, and be sure to read on for more about this compact luxury SUV and what sets it apart.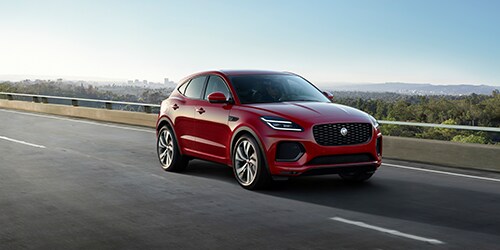 NEW 2022 JAGUAR E-PACE OFFERS
________________________________________
CHECK BACK SOON FOR JAGUAR E-PACE OFFERS.
How to Save with a New Jaguar E-PACE Lease
The Jaguar E-PACE is a recent addition to the luxury automaker's lineup, and this SUV impresses in every regard. It has exhilarating performance, even through snow, while having a lot of cabin space for the compact exterior, which helps when heading into the city. Many drivers choose to lease a new Jaguar E-PACE because of the value this auto finance option provides, and that value is clear with our Jaguar E-PACE lease specials. We have low-cost down payment options, a wide range of mileage allowances, and different lengths for these lease specials, so the choice is yours. You'll enjoy affordable monthly payments on a luxury SUV that has everything you need to enjoy driving more, and we make the whole Jaguar leasing process simple, including the return!
Learn More About the Jaguar E-PACE for Sale in Glen Cove, NY
We know that many car shoppers are considering leasing a new Jaguar as we've talked with many in the area, and these Jaguar E-PACE lease deals are just what many are looking to enjoy. If you reach out to our Glen Cove Jaguar dealership, a member of our team can run you through the benefits of leasing a luxury car and what to expect from every Jaguar E-PACE for sale on our car lot, so we hope you reach out soon!
Jaguar Glen Cove

70 Cedar Swamp Rd
Glen Cove, NY 11542