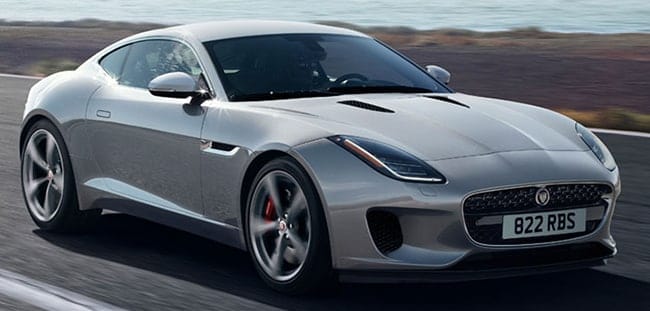 It is one of the sleekest sports cars available. And it just happens to be a Jaguar. With the new model year comes new changes for Jaguar's top luxury sports car. The 2020 Jaguar F-type is a unique sports car, based on its luxurious features, high-quality materials and extreme performance. The features only get better with the addition of two new standard infotainment elements.
Apple CarPlay and Android Auto are now included on every level of the Jaguar F-TYPE. This gives you access to your phone, hands-free, for navigation, calls and traffic data. It also allows you the ability to use your favorite apps, like Pandora, Slacker ratio or SiriusXM radio, through the 10-inch touchscreen of your Jaguar F-TYPE infotainment system.
Another new element to the Jaguar F-TYPE is color options. You now get a choice of daring Eiger Grey and a distinguished Portofino Blue for your F-TYPE. Both are vibrant additions to the color palette and would make a bold statement when you hit the road around Long Island.
Perhaps the biggest addition to the Jaguar F-TYPE for 2020 is the limited-edition Checkered Flag trim level. Powered by either a potent 296-horsepower four-cylinder with rear-wheel drive or a 380-horsepower all-wheel drive V6, the Checkered Flag is a powerful and sportier version of this mean machine.
What separates it from the rest of the trim levels is the black contrast roof, The red illuminated treadplates, red brake calipers and trim-specific badging. Red seatbelts and brushed aluminum console bring your unique flare to your F-TYPE. Windsor leather upholstery has contrast stitching and luscious ebony suede headliner. These elements are truly unique to the Jaguar F-TYPE.
When you need performance and style, you want to get behind the wheel of the Jaguar. When you want something that can provide you with a driving experience you can't get anywhere else, the 2020 Jaguar F-TYPE is the car designed for you. Visit Jaguar Glen Cove for your first peek at this exceptional luxury sports car.